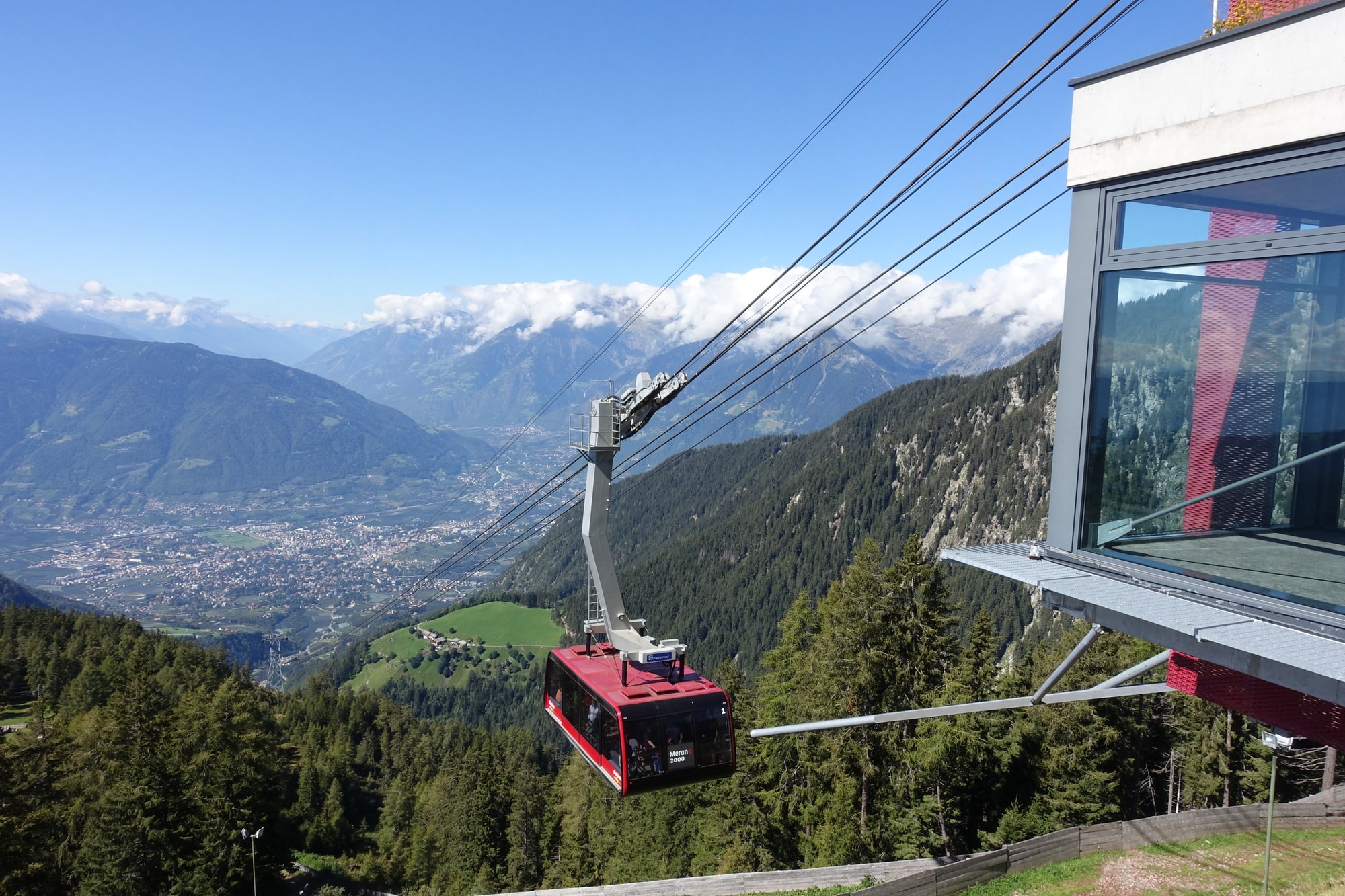 Meran - Meranerland
The Meranerland at the foot of the Texel Group Nature Park with its mountains over 3000 m high is known for its mild climate and its unique
Alpine-Mediterranean vegetation. Orchards, vineyards, hemp palms and cypresses create a southern atmosphere.
In addition, there is the cultural diversity of the Burggrafenamt with castles and old residences. Here lies the heart of historic Tyrol.
As a region close to nature, the Meraner Land offers a wide range of leisure opportunities and activities as well as rest and relaxation for body and mind.
Numerous panoramic paths, trekking paths and alpine mountain hiking routes in this unique high mountain landscape make the Texel Group on the southern side of the Alps one of the most popular travel destinations for hikers.
The Meraner Höhenweg:
A special experience is the Meraner Höhenweg, which goes around the Texel Group Nature Park without any significant climbs. The mountain trail is designed as a multi-day hike, but individual, shorter sections can also be covered.
The high alpine flora and fauna as well as rustic mountain huts make the high-altitude hike a real pleasure.
If you want to immerse yourself in the high mountain regions, we recommend using ascent aids so that the difference in altitude is not so great.
With the new Meraner Land cable car ticket you can use 15 different cable cars and chair lifts in Meraner Land at a particularly advantageous price.
Oberkirn-Grube chair lift (Schenna/Verdins/Tall) Hirzer cable cars (Saltaus/Tall) Merano 2000 cable car (Meran) Falzeben cable car (Hafling) Mittager chair lift (Merano 2000/Hafling) Grünboden cable car (Pfelders) Schnalstaler Gletscherbahnen (Kurzras/Schnalstal) chair lift Lazaun (Kurzras/Schnalstal) Schwemmalm cable car (Kuppelwies/Ultental) Texelbahn cable car (Partschins) Unterstell cable car (Naturns) Vigiljoch cable car (Lana) Vigiljoch chairlift (Lana)
Beautiful, for example: the hike to the Spronser lakes from Dorf Tirol (starting point at the Hochmuth cable car mountain station).
The hiking season starts here in March for hikes up to 1200m altitude, through the vineyards and orchards.
In the high mountains, early June - late October is ideal.
Even in November you can enjoy the colors of the deciduous trees with mild temperatures.